Skip to Main Content
It looks like you're using Internet Explorer 11 or older. This website works best with modern browsers such as the latest versions of Chrome, Firefox, Safari, and Edge. If you continue with this browser, you may see unexpected results.
Librarian for Music & Performing Arts
Amanda DuBose
she/they
New Collection Spotlight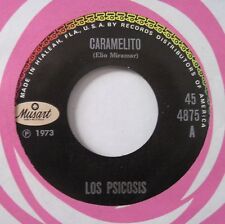 The Bell Brothers Collection of Latin American & Caribbean Recordings
Syracuse University Libraries' Special Collections Research Center (SCRC) has recently made available the first batch of recordings from their Latin American 45's collection, digitally transferred and preserved by the Belfer Audio Archive. Recordings are able to be streamed from any public workstation in Bird Library.
For more information on the collection, see the collection finding aid on the Libraries' website.
New Resources
Musical America Worldwide

Job listings, news, and industry reports for the performing arts; plus an online directory of artists, managers, publishers, producers and more
New Resources!
Studies in Music Theater

Studies in Musical Theatre provides a forum to debate a wide range of texts that articulate the musical together with the theatrical. This peer-reviewed journal brings together a variety of critical approaches to contribute to the discussion surrounding live performance, the development and form of musical theatre and its value as a cultural product in theory and practice. Here, you will find a wealth of writing encompassing everything from opera to film musical to pop video.
Oxford Handbooks Online

Now has 160+ new sources in music including an article by Syracuse's own Amanda Eubanks Winkler entitled, "'Let's have a dance': Staging Shakespeare in Restoration London."
Songlines

A Magazine for world music, its politics, history, and identity. Full page scans include beautiful images.
Library of Congress Web Archives
Library of Congress Web Archives

The Library of Congress Web Archive manages, preserves, and provides access to archived web content selected by subject experts from across the Library, so that it will be available for researchers today and in the future. Websites are ephemeral and often considered at-risk born-digital content. New websites form constantly, URLs change, content changes, and websites sometimes disappear entirely. Websites document current events, organizations, public reactions, government information, and cultural and scholarly information on a wide variety of topics. Materials that used to appear in print are increasingly published online.