Skip to Main Content
It looks like you're using Internet Explorer 11 or older. This website works best with modern browsers such as the latest versions of Chrome, Firefox, Safari, and Edge. If you continue with this browser, you may see unexpected results.
About the LIst
This list is designed to inspire black people to be proud of their heritage!
Source Highlight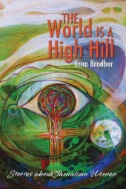 By author Erna Brodber, The World is a High Hill demonstrates the multifaceted nature of the Jamaican woman, faced with all the trials the high hill of the world presents, at times a steeper climb for some more than for others. The stories are preceded with an enlightening foreword by Professor Verene Shepherd and close with an equally instructive interview with the author by Professor Carolyn Cooper.
Literature like this can be found on the Caribbean Collection database.