Skip to Main Content
It looks like you're using Internet Explorer 11 or older. This website works best with modern browsers such as the latest versions of Chrome, Firefox, Safari, and Edge. If you continue with this browser, you may see unexpected results.
About the List
This curation of literary fiction represents the talent and creativity that exists within the black community!
Source Highlight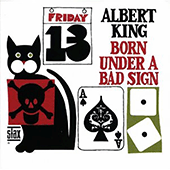 Born Under A Bad Sign (1967) is a contemporary jazz and blues album by American blues guitarist and singer Albert Nelson, known by his stage name Albert King. Having a renowned career as a musician, he became known as one of the "Kings of the Blues," along with musicians B.B King and Freddie King. This album is Albert King's most popular and influential work.
For other black artists in jazz and blues, visit the Naxos Music Library Jazz database:
Naxos Music Library Jazz Limited to five (5) simultaneous users.
Streaming audio of jazz recordings from the Naxos label as well as Blue Note Records, Warner Jazz, EMI, and Fantasy Jazz, among other record labels.