Book Repair Basics for Libraries: An ALCTS Webinar
Click to view slides or download full webinar with slides, audio, and video.
This presentation familiarizes viewers with different aspects of circulating collections book repair for school, public, and academic library staff by showing basic descriptions of techniques, images, and video.This presentation should not be construed as a how-to, hands-on workshop. Likewise, it is not aimed at the treatment of special collections items. Selected resources for training, both hands-on and online are provided at the end. Presented as an ALCTS webinar on September 14th, 2011.
The Book Arts Web: Most comprehensive site for book arts resources.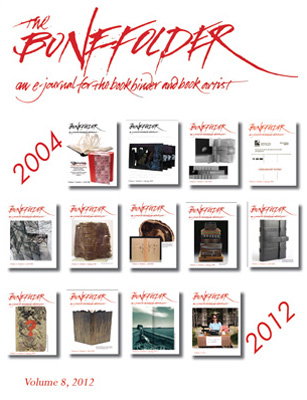 The Bonefolder: an e-journal for the bookbinder and book artist
Book_Arts-L: Listserv for all the book arts. Link at the Book Arts Web in the sidebar on the left side of the page. Includes online archive going back to 1994.
Library Preservation and Conservation @ Syracuse
These pages are designed as a resource for students interested in library and archival preservation and conservation at the iSchool and in museum studies.
Book Arts Events:
Brodsky Series for Library Conservation: Video of lectures by John Dean, Hedi Kyle, Gary Frost, Chela Metzger, William Noel, Don Etherington, Holly Krueger, and Lois Olcott Price on conservation/book arts topics and structures.
Stations of a Bookbinder's Life – Twenty-five Years in the Field: In this lecture for the Cornell University Bookarts Club on October 11, 2007, Peter Verheyen, bookbinder, conservator, and founder of the Syracuse Conservation Laboratory, discusses his experiences as an apprentice in Germany, work as a binder and conservator, and the many twists and turns his career has taken over the past twenty-five years. Audio and PowerPoint slides available.
For the most comprehensive listing of book arts related resources see the Book Arts Web.
A preservation classic from 1987 - still as relevant as the day the case was solved. It's elementary, really.
Dos and don'ts of handling library materials.Fun "vintage" video produced by the Preservation staff at Kansas State Libraries Preservation Working Group.
The FUNdamentals of Book Care in 5 Easy Lessons
Book Arts and Conservation
Peter Verheyen
Contact Info
Peter D. Verheyen
Research and Emerging Issues Analyst
Syracuse University Libraries
Syracuse, NY 13244
315.443.9756
Send Email