The Book Arts Web: Most comprehensive site for book arts resources.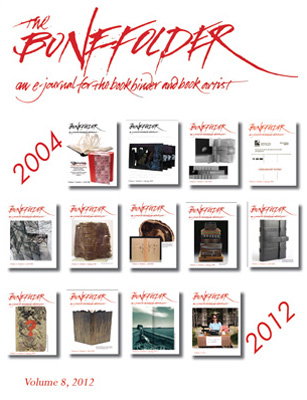 The Bonefolder: an e-journal for the bookbinder and book artist
Book_Arts-L: Listserv for all the book arts. Link at the Book Arts Web in the sidebar on the left side of the page. Includes online archive going back to 1994.
Electrolibrary by Waldek Węgrzyn – Paper book as interface
Created by Waldek Węgrzyn at the Academy of Fine Arts in Katowice, Poland, "Electrolibrary" is a project that connects a custom made paper book to the computer, so it can be used as an an interface. The book can be browsed as any other regular book but when connected to the computer via USB, by turning pages, you can navigate through the website, getting additional information, quotations, movies and animations appropriate to the currently open page.
These pages are designed as a resource for students in the College of Visual and Performing Arts' School of Art and Design studying "the book" as a concept and structure and support presentations done for students, primarily in the Foundation Program.
Resources include images of examples from the collection of the Special Collections Research Center, "canned" subject searches of the Library's catalog, and a listing of examples elsewhere sorted by structure.
Book Arts Events at Syracuse and Beyond:
For the most comprehensive listing of book arts related resources see the Book Arts Web.
Book Arts and Conservation
Peter Verheyen
Contact Info
Peter D. Verheyen
Research and Emerging Issues Analyst
Syracuse University Libraries
Syracuse, NY 13244
315.443.9756
Send Email